Forthcoming talks
All the talks listed below will be via Zoom meetings. About two weeks before each talk all members will receive an emailed invite from our Meetings Co-ordinator, asking if they wish to attend the talk. There is a limited of 95 attendees, and these will be allocated to the first 95 responses to that email. A few days before the actual date of the talk, a link to join the meeting will be emailed to those confirmed acceptances. On the day of the talk, all attendees will be automatically 'muted' to avoid any interruptions from background noises. Though the talks start at 11am, you can sign in to Zoom from 10:30am.
Step Back in Time
Monday 26th April, 11am – with Paul Robbins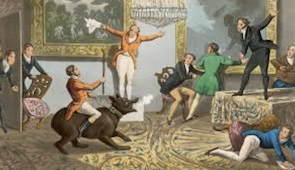 Paul gives a hilarious account of Great British Eccentrics, taking you on a light-hearted journey that looks at some of the great characters from our past. Like the Lord who spent many hours floating in a large indoor glass water tank writing rude letters to the Prime Minister. Listeners hear from a unique singer, a comically UFO obsessed peer, and then to more recent times some of the great eccentrics of the last 30 years including some world famous characters who you will recognise immediately as well as wonderfully ordinary eccentric people. Promises to be very comical.
The History of the BBC
Monday 10th May, 11am – with Ian Barclay
In 2022 the BBC celebrates its Centenary the intervening 100 years has produced remarkable changes. The talk explores the BBCs history and development and it covers audio recording and broadcasting even before the BBC was formed.
History of the Carry On films
Monday 24th May, 11am – with Steve Dimmer
Steve has many talks he presents, but the one that is very popular is his the History of the Carry On films. About how they were made, promises to be be very funny and interesting.
From script to stage: putting on a play in the age of Shakespeare
Monday 14th June, 11am – Niall Boyce, Birkbeck College, London
How did acting companies go about staging drama in Shakespeare's London? This talk tracks the journey of plays from the page to the playhouse. It includes a guide to bad behaviour in the theatre, stories of how actors and authors got in (and out) of trouble, and an exploration of how Plymouth was portrayed on the Renaissance stage.