Join us for a Voyage into History:
Discover Sea History!
Group Leader: Bill Bertram
Venue: Devonport Views Activity Room
Day: 1st Monday unless it is a Bank Holiday then see program below
Time: 10:15
Entrance fee £2 including tea/coffee biscuits
Email me for further details mr.w.bertram@gmail.com
Updated 5th April 2018
Britain has a second to none seafaring history. Our group makes it come alive in the research and discussions. Each meeting brings out new insights and discoveries, from the ancient Roman mariners, to Portuguese navigators opening up the ocean world. From heroic efforts of our seamen of World War II to Replica ships sailing long forgotten trade winds. We always have various interesting topics.
If you love the sea and British History, then come and join our growing group. We have retired experts from a lifetime of Marine based professions, to people who just love hearing about the sea and Britain contribution to the maritime world.
Bananas
The uncontrollable nature of the sea has given way to many a nautical lore, each one as curious as the next. Non so bad as the following, oh I'm not sure about that!
No Bananas On Board
Aside from their peels causing many comedians to trip and fall down, bananas have long been thought to bring bad luck, especially on ships. At the height of the trading empire between Spain and the Caribbean in the 1700's, most cases of disappearing ships happened to be carrying a cargo of bananas at the time.
Coincidence? Perhaps. Another theory suggests that because bananas spoiled so quickly, transporters had to get to their destination much quicker. Fisherman thus never caught anything while bananas were on board. Another danger caused by monkey's favourite fruit fermenting so quickly, was that in the heat of the storage hull, bananas would produce deadly toxic fumes.
A final theory on the perils of bananas at sea (though there are tons) is that a species of deadly spider would hide inside banana bunches. Their lethal bite caused crewman to die suddenly, heightening the fear that banana cargo was a bad omen.
Ergo Bananas are evil
Here is an example of what we might examine…
During the Seven Years War, Admiral Byng was charged with 'failing to do his utmost'. He was executed on board the Monarch on March 14th, 1757.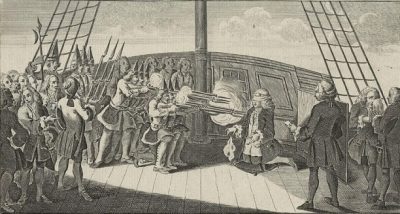 A quiet, shy man, the unfortunate John Byng was no coward – he faced his death with cool courage – but he seems to have been too cautious, passive and defeatist for command in the British navy. He went to sea at 13 and rose up the ladder to captain at 23 and rear admiral at 40.
Another Example might be the Cornish Fishing Fleets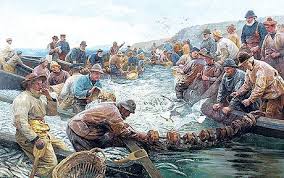 Fishing is one of the oldest professions in the world.  One could argue that perhaps Cornwall's fishing industry has a real claim to be one of the oldest, there they mainly hunted the pilchard (now referred to as 'sardines').
Fishing villages such as St Ives and Newlyn sprang up into large towns, their prosperity based on the small fish that swarmed in the Cornish waters.
See you there