Plymouth U3A Music Appreciation Group
Music Appreciation Group
We have resumed normal meetings and subject to any changes in the Covid situation we shall be continuing in the New Year. Our next meeting will be on Friday the 14th.January starting at 10.30. We meet at the Wolseley Centre's Main Hall, Wolseley Close, near the Co-op food store.
We have varied programmes of music videos covering concerts, operas, choral and ballet. We also have the occasional presentation by a member of the group about a musician or certain pieces of music. We shall publish the next programme in the New Year.
If you are not a member of our group and you would like to join please contact us on 01752 698041 or email – michaelnmaggy18@gmail.com
Please wear a Face Mask, it's an enclosed space.
---
Learn the Recorder
Group Leader:
Venue: Group Leader's Home
Day: Alternate Tuesdays Time: 11:00
This is a friendly group of people who are learning to play in consort, and an ability to read music reasonably well and some knowledge of recorders is required, along with a commitment to practice regularly. You will need to provide your own recorder and music stand, and be prepared to buy sheet music sometimes. There is no other charge.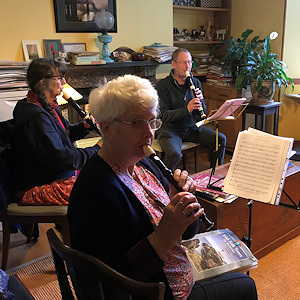 We meet twice a month and enjoy playing a variety of musical genre, everything from traditional recorder consort music to arrangements of Swing Low Sweet Chariot, Down by the Riverside and Recorder Poppetts. There are tenors, trebles, descents and a bass recorder in our consort.