Plymouth U3A Music Appreciation Group
Music Appreciation Group
We shall be returning to the Wolseley Centre on Friday 13th. August for our first face – to face meeting since Lockdown and the programme we have chosen is "Waldbhune '95 – American Night", the Berlin Symphony Orchestra conducted by Sir Simon Rattle.
The programme features Wayne Marshall, William Whyte, Cynthia Hayman, Danon Evans, Cynthia Clarey, Marrietta Simpson and Danial Washington playing and singing Bernstein's Candide Overture and his Prelude, Fugue and Riff: Gershwin's Rhapsody in Blue, excerpts from Porgy & Bess, Someone to watch over me and I got rhythm.
It's a jolly good programme which we hope you will enjoy. Don't forget there's no Zoom link for this programme, you've got to turn up at the Wolseley Centre on the 13th. August and be ready for a 10.30 start.
Please wear a Face Mask, it's an enclosed space.
If you are not a member of our group and you would like to join please contact us on 01752 698041 or email – michaelnmaggy18@gmail.com
---
Learn the Recorder
Group Leader:
Venue: Group Leader's Home
Day: Alternate Tuesdays Time: 11:00
This is a friendly group of people who are learning to play in consort, and an ability to read music reasonably well and some knowledge of recorders is required, along with a commitment to practice regularly. You will need to provide your own recorder and music stand, and be prepared to buy sheet music sometimes. There is no other charge.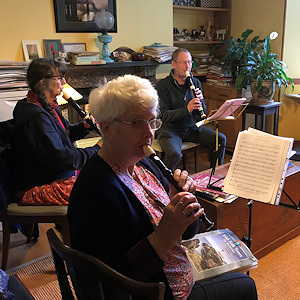 We meet twice a month and enjoy playing a variety of musical genre, everything from traditional recorder consort music to arrangements of Swing Low Sweet Chariot, Down by the Riverside and Recorder Poppetts. There are tenors, trebles, descents and a bass recorder in our consort.