Group Leaders: Barry & Sarah
Venue: Meet at published walk starting point
Days: 2nd & 4th Thursdays in month, 10:15 meet for 10:30 start.
You can get a taste of what is in store by clicking on the Program link further down the page!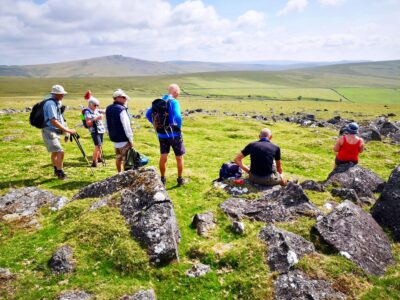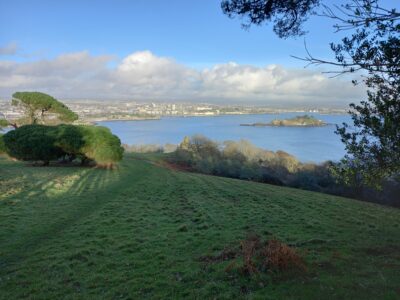 Welcome to the Plymouth U3A Long Walks Group. I hope you will find the page informative and interesting enough to perhaps join us on a walk!
We walk twice a month, all year round and try to put on a varied and interesting selection of walks in many beautiful locations. Although a lot of the walks are located on Dartmoor or based around the South West Coast Path, particularly in summer, we also explore the rolling countryside in between.  Sometimes our walk leaders take us to places we know well but offer new perspectives or unusual routes. We mostly travel by car (vehicle sharing is encouraged) and do circular routes, but from time to time we have a day out by train or bus, which enables us to do linear walks and have a sociable drink afterwards.
You will find details of both our next outing and our last walk in the Newsbox below, whilst the prospective Walks Program for the next few months can be viewed by clicking on the link below.
We are always on the look out for new locations and routes, so if you do join us then please don't be afraid to put new ideas forward. Even more importantly this is a very sociable group and we are always delighted to meet new people. This is not a group with a fixed upper limit on membership and we currently have around 30 on the register/mailing list. There are usually 10 – 15 people on most walks; whoever turns up we always enjoy our day. So join us when you can!
Your don't need expensive kit but proper walking boots, warm clothing (layers are best) including hat and gloves, waterproofs and a comfortable day rucksack are essential. We can certainly give you plenty of advice and help on what to buy and where to get it if you are unsure.
You will need a reasonable level of fitness and stamina, but we appreciate that that can time to build up again. The emphasis is on maintaining a steady pace, rather than speed, but we all stop to catch our breath from time to time! We try to walk as one group as much as possible and we ensure that no-one gets left behind. The walks will usually have hills or mud or similar difficult going for at least a small part of the route and often some of the ground can be steep and/or rough underfoot, particularly on Dartmoor or the SW Coast Path. 
Most of our walks are generally between 8 and 10 miles in length, usually with 1 or 2 coffee breaks and a longer lunch stop somewhere en route. We carry our own lunch and drinks. Walks usually start at 10.30am and finish between 3.00 – 4.00pm, occasionally later. If possible, the longer/harder routes tend to be at the start of the month in week 2, as the Intermediate Group also walk in that week.
All routes are checked out, in advance, by the walk leader. Route details and descriptions are included on the Walks Program and made available to all group members by email. Most of us are experienced walkers and obviously our intention is to pick safe and appropriate routes, but we are not professional guides. Therefore anyone who comes on the walk is accepting that they walk at their own risk and must take responsibility for their own safety
If all this sounds a bit melodramatic, please don't be put off. We haven't had any major incidents during my time with the group and I do my best to keep everyone happy and safe!
Please click on the link below for the current guidelines for our walkers.
Current Guidelines for Plymouth U3A Long Walks Group Members
(last revised 02.08.22).
If you have any queries then please don't hesitate to email me at the following address:
barryjcopeland2@yahoo.co.uk
See you soon hopefully
Barry
(2 August 2022)
Newsbox
Our Next Walk

Many thanks to David for organising and leading this lovely 11 mile outing on Thursday 11th August from Newbridge car park SX711708 near Poundsgate/Holne. As usual, 10.15am meet for a prompt 10.30am start. Suggested CAR SHARE from Coypool Park & Ride, MarshMills SX519570 at 9.15am.

This is the route originally scheduled for 14th July, which was postponed due to the extremely hot weather.

Follow the river to Ponsworthy, Two Moors Way to Jordan and around to Corndon Tor, Yar Tor, Sharp Tor, Bel Tor, Aish Tor and back.    

Lovely riverside walks, steady uphill, terrific views. Largely on good tracks/paths, occasional tarmac stretch or rough/boggy section. 2200ft ascents/descents, but nothing too severe.

Our Last Walk

This took place on Thursday 28th July from Yealmpton village. A huge thanks to Maggie for organising/leading the walk, as well as all the other walks she has led over the past few years.

17 other members joined Maggie in hot and sunny conditions for an 8 mile stomp around the South Hams countryside.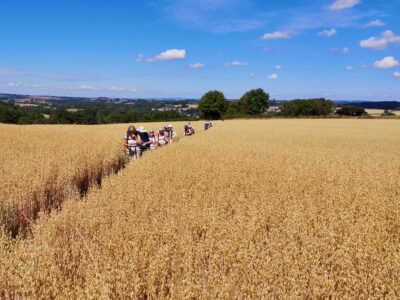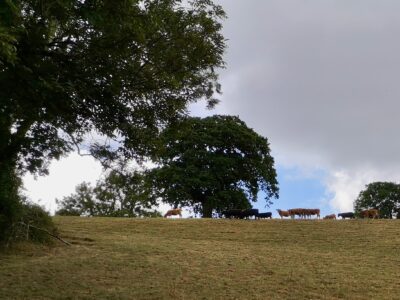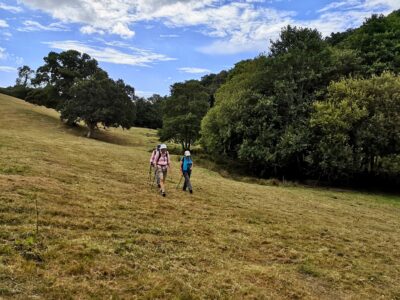 Next Annual Walking Holiday: September 2022

October 2021 saw the return of the annual walking holiday, after the cancellation of the proposed trip to Pembrokeshire in April 2020, and a few of us had a great time up in North Devon (see below).

The plan is to run a similar self-drive holiday this year, from MONDAY 25TH - FRIDAY 29TH SEPTEMBER, based in Bridport, Dorset. The town has a good selection of different types of accommodation and eating establishments.

Most of us thus far have booked a double/twin room at the Greyhound Hotel, which is actually a Wetherspoons pub, for 4 nights at a charge of £83 per night. The charge is by the room, regardless of the number of occupants, so if you share with someone you will get the room for half the price. They currently have another 3 double/twin rooms available, as at 2nd May, although the price has risen to £88 per night. The hotel has excellent reviews and it being a Wetherspoons house means that food is available anytime from 8am to 11pm (not that I am necessarily planning on eating there every night!). Please note that it does not have on-site parking.

As far as the walking side goes, I am aiming to walk for three whole days and two half days. However others can join as many walks or come for as long as they wish. There is a rich variety of fabulous walking in the area, both around the Jurassic Coast and further inland. For example, the coastline around nearby West Bay is spectacular and will be very familiar to anyone who watched the TV series Broadchurch. There is also Lyme Regis, Beer Head and Branscombe to the west, with Chesil Beach, Abbotsbury and Weymouth/Portland to the east. Inland meanwhile are the chalk downs of the Ridgeway and Thomas Hardy country. Please note that the routes won't be checked out in advance but will generally be taken/adapted from guidebooks and walked on sight. This approach worked well in Lynton last October, where we often sat around reading route descriptions in the evening discussing the next day's route or routes, adapting to the weather forecast and so on. It was nice to do routes that were new to all of us and often navigate or route find as a team. We largely walked as one group but split into smaller groups on occasion, as and when people wanted an easier day, time to themselves or to visit a specific place.

The idea is to drive to Bridport and generally use cars to get to the walks. However we don't all need to drive and car sharing is a sensible approach. How many cars we take will ultimately depend on how many are going, who is staying where and for how long etc. We may need a minimum number of vehicles in order to facilitate linear walks (unless buses can be utilised). For example if there are 8 of us, then we will need at least 3 cars (2 to drop everyone at the start, 1 to take the original drivers back to their vehicles afterwards).

I would suggest that if you are interested in joining the trip that you book yourself a room sooner rather than later, safe in the knowledge that you don't have to pay until you get there and can cancel without charge right up until the last minute if you change your mind or if circumstances alter. You can either book through Booking.com or deal directly with the accommodation, whichever is your preference.

North Devon Trip: Monday 4th - Friday 8th October.
5 of us had a great walking holiday, based in the charming village of Lynton, which proved to be ideally placed to access both Exmoor and the South West Coastal Path. We were blessed with excellent walking weather throughout. The only time we really got wet was when walking up the hill from Lynmouth after dinner on our first night, otherwise one windy day was as bad as it got!

Although some of us had done parts of some of the walks before, for me one of the delights of the trip was walking in new territory, actually having to navigate properly and working as a group.

We managed to fit in 3 superb all day walks and 2 lovely half day walks, including The Valley of Rocks,  Doone Country, The Chains (including Exe Head), Hunters Inn & Heddon's Mouth and Watersmeet, The Foreland & Countisbury Hill.

I hope the pictures below will give you a flavour of the trip.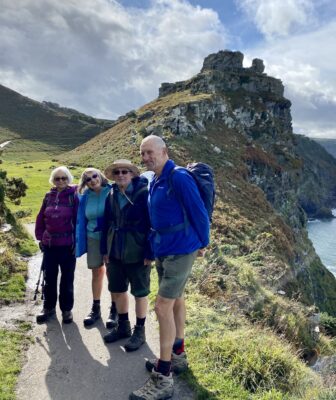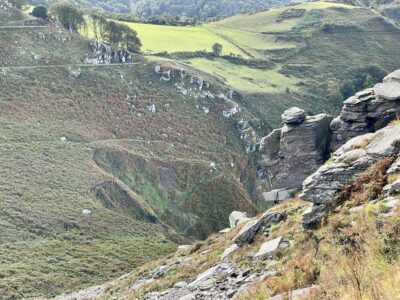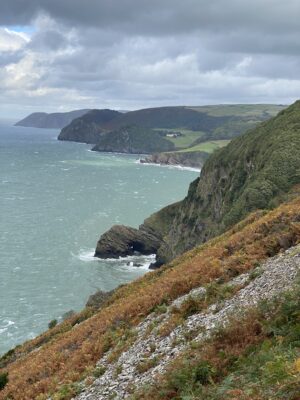 Recent Walks Gallery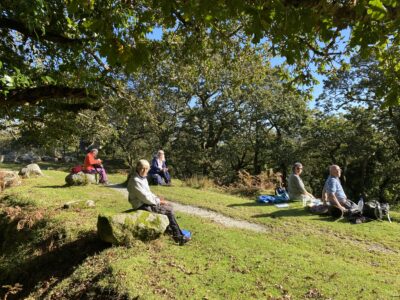 "It doesn't always rain when David comes!"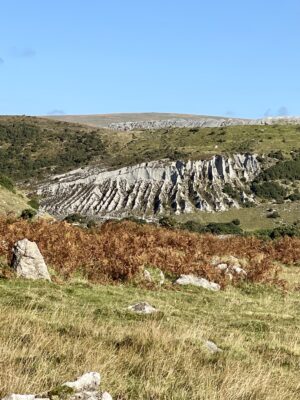 Industry and Nature in harmony?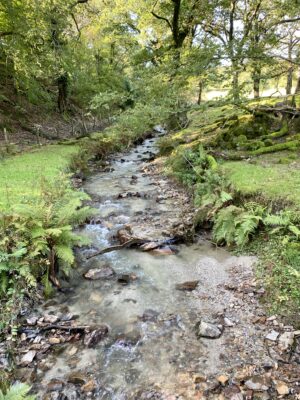 China clay can still mean clean water.