Group Leaders: Barry & Sarah
Venue: Meet at published walk starting point
Days: 2nd & 4th Thursdays, 10:15 for 10:30 start + 2nd or 3rd Monday in month, 9:30 start
Temporarily (hopefully) Suspended!
Next walk THURSDAY 10TH DECEMBER
Please click on the link below for our current guidelines
(last revised 18.9.20).
Guidelines for Plymouth U3A Long Walks Group Members
Welcome to the Plymouth U3A Long Walks Group. I hope you will find the page informative and interesting enough to perhaps join us on a walk!
All year round we head out on a varied and interesting selection of walks in many beautiful locations, from Moor to Sea and the rolling countryside in between.  Sometimes our walk leaders take us to places we know well but offer new perspectives or unusual routes.
You will find details of both our next outing and our last walk in the Newsbox below, whilst the Walks Program for the next few months can be viewed by clicking on the link below. Although all walks until mid October were up high on the open moorlands of Dartmoor and Bodmin Moor for social distancing reasons, we have returned to a bigger variety of locations from late October onwards.
We are always on the look out for new locations and routes, so if you do join us then please don't be afraid to put new ideas forward. Even more importantly this is a very sociable group and we are always delighted to meet new people. This is not a group with a fixed upper limit on membership and we currently have around 45 on the register/mailing list. There are usually 15 – 20 people on most walks; whoever turns up we always enjoy our day. So join us when you can!
Please note however that the group has a good level of fitness and stamina, although obviously we all stop to catch our breath from time to time! It is rare that walks do not have hills or mud or otherwise difficult going for at least a small part of the route. Most walks are generally between 8 and 10 miles in length, usually with 1 or 2 coffee breaks and a longer lunch stop somewhere en route. We carry our own lunch and drinks. Walks usually start at 10.30am and finish from 3.00 – 4.00pm, occasionally later.
Your don't need expensive kit but proper walking boots, warm clothing including hat and gloves, waterproofs and a comfortable day rucksack are essential. We can certainly give you plenty of advice and help on what to buy and where to get it if you are unsure.
We also suggest that joining the Emergency SMS (Texting) Service with your mobile phone is a good idea.
Details can be found at  https://www.emergencysms.net/files/3649_esms_6.pdf
Every year (except this one sadly) we have had a walking holiday in another part of the country. The next trip is provisionally scheduled for September 2021, when we have planned a 5 night stay near Fishguard in Pembrokeshire, although this could obviously change.
If you have any queries then please don't hesitate to email me at the following address:
barryjcopeland2@yahoo.co.uk
See you soon hopefully
Barry
Newsbox
NEW Extra Walk Each Month!
There will now be three walks each month, as we are going to put on a 10-12 mile route for the diehards amongst you/us. These will be slightly tougher than the usual walks and often in more rugged or exposed terrain, but hopefully still suitable for everyone who is so inclined. They will entail an earlier start, especially during the winter months in order to make the most of the limited daylight hours and we are also hoping to travel slightly further afield at times. Usually the walks will take place on either the 2nd or 3rd Monday of each month, depending on which results in us avoiding having 2 walks in the same week.
The first such outing will now be on Monday 18th January starting from Mary Tavy.
Our Next Walk
All being well we will be out again on Thursday 10th December, in the South Hams, meeting at New Road car park in Yealmpton.

Our Last Walk
Maggie led the way on 22nd October as 17 of us, split into 3 groups, headed off along the coast path from Wembury towards Heybrook Bay. After a coffee stop in glorious sunshine at Bovisand, we headed inland to Staddiscombe and Hollacombe Hill. We eventually rejoined the coast path at Warren, opposite Noss Mayo, finishing a delightful walk by completing the circle back to Wembury.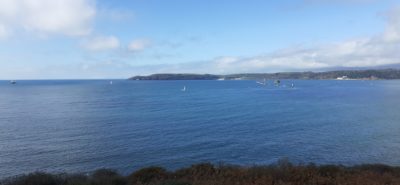 Wembury Walk
Back from Lockdown Photo Gallery
Holiday 2021
Our 2021 holiday will hopefully be to the glorious Pembrokeshire coast of Wales, dates to be announced. There are some fabulous routes planned.
Click on the link below to see full information about the trip!
Pembrokeshire Holiday 2021
Pre Lockdown Walks Photo Gallery
These group walk shots were taken in more normal times!


Lockdown In Mevagissey by Colin

Lockdown Gallery
These were all taken on our individual daily exercise during the initial Covid 19 Lockdown. Everyone sent in photos taken on their daily walks in their local area.

Semi-Lockdown Gallery
Hereford Holiday 2019 Gallery
Dartmoor Tors Quiz
John Noblet has kindly provided a photo quiz for lovers of Dartmoor.
Click on the link below to see if you can identify the 23 locations in John's pictures and solve the mystery of the two authors!
Dartmoor Quiz V3