Join us for a Voyage into History:
Discover Sea History!
Group Leader: Bill Bertram
Venue: Wolsey Center
Day: 1st Monday unless it is a Bank Holiday then see program below

Time: 10:00

Entrance fee £3 including tea/coffee biscuits
Email me for further details mr.w.bertram@gmail.com
| | | | |
| --- | --- | --- | --- |
| 7 JAN. | Capt. Andrew Welch | Tirpitz & Scharnhorst | Maritime |
| 10 JAN. | Bill Bertram | Boer War | Military |
| 4 FEB. | Ron Howell | 3000 Years of History from the Sea | Maritime |
| 14 FEB. | George Moore | Napoleonic War | Military |
| 4 MAR. | Ian Kilpatrick | Festival of the Sea Brest 1996 | Maritime |
| 14 MAR. | Jennifer Gegg | Heights of Abraham | Military |
| 1 APR. | Ron Smith | Pilchards & Palaces | Maritime |
| 11 APR. | Mike Griffiths | Listening to the Enemy | Military |
| 9 MAY | Mary RF/Mick N | Royal Citadel Plymouth | Military |
| 13 MAY | Jill Drysdale | Pirates of the W.Atlantic Devon Captives | Maritime |
| 3 JUN. | Clive Foster | Brennan Torpedo System | Maritime |
| 13 JUN. | Phil Hartley | Tour of Royal Citadel | Military |
| 1 JUL. | Ron Smith | Change to advertised program | Maritime |
| 11 JUL. | John W/Mick N | Stonehouse Marine Barracks | Military |
| 5 AUG. | Ursula Myers | Hallsands | Maritime |
| 8 AUG. | Bill Bertram | Dardanelles | Military |
| 2 SEP. | Courtney Elliot | Ironclads | Maritime |
| 12 SEP. | | | Military |
| 7 OCT. | Felicity Sylvester | Herring Fisheries with tasting | Maritime |
| 10 OCT. | Christ'pher Darwin | Naval Aviation c.1970s | Military |
| 4 NOV. | Bill Bertram | Royal Navy History, Part 1 | Maritime |
| 14 NOV. | Janice Cawthorn | Living with the Enemy, Channel Island WW2 | Military |
| 12 DEC. | Barbie Thompson | Horses in Art&War | Maritime |
Updated 7th February 2019
One hundred years ago today, on New Year's Eve 1918,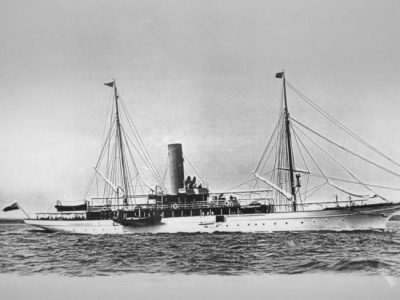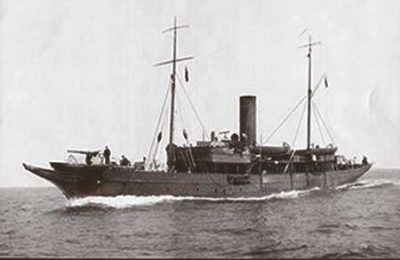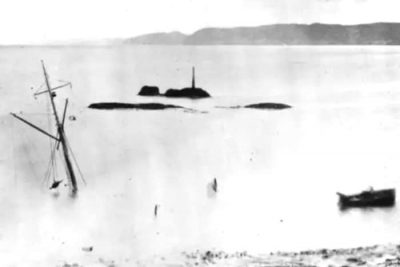 set sail from Kyle of Lochalsh carrying 280 sailors who had fought in WW1 returning home to Stornoway from the Great War.
On New Year's morning at 01:50, tragedy struck when the vessel struck rocks at the Beasts of Holm at the entrance to Stornoway Harbour.
201 men lost their lives and 79 others survived – making it one of Britain's worst maritime disasters.
Every village on the island was affected and some families lost several sons, brothers and fathers.
There are very few local families which were left untouched by the tragedy and because of the poor communications available at the time, it was in some cases, days before news of the tragedy reached families in the remoter parts of the island. As day broke on the first day of 1919, one lone sailor clung to the mast of the ship which was still above water but bodies were strewn across the shore along with personal belongings, many gifts for children and even a few engagement rings were later found in pockets and bags. The poignancy of these details still resonates deeply with the islanders.
The event marked the history of the Western Isles more significantly than any other and left a devastating and lasting tragic legacy. Tomorrow marks the 100th anniversary of the loss and it is being commemorated widely on the island as well as online. There will be a torchlight procession through the town tonight (New Year's Eve) and at 01:50 a small contingent of 15 local dignitaries will make the journey to the Beasts of Holm coastline where the vessel sank and lay a wreath. HM Coastguard is taking part and/or providing safety cover in all of the commemorative events and services planned.
We will always remember those who perished on that fateful morning 100 years ago.
Events from 9.30pm will be live streamed from this website: http://www.iolaireonline.org/
With kind thanks to Buckingham Covers for allowing us to use this commemorative collectable stamp image of the HMY Iolaire.
19th Century Naval Joke
The U.S.S. Constitution (Old Ironsides), as a combat vessel, carried
48,600 gallons of
fresh water
for her crew of 475 officers and men. This was sufficient to last six months of sustained operations at sea. She carried no evaporators (i.e. Fresh water distillers).
However, let it be noted that according to her ship's log, "On July 27, 1798, the U.S.S.Constitution sailed from Boston with a full complement of 475 officers and men, 48,600 gallons of fresh water, 7,400 cannon shot, 11,600 pounds of black powder and
79,400 gallons of rum
."
Her mission: "To destroy and harass English shipping."
Making Jamaica on 6 October, she took on 826 pounds of flour and
68,300 gallons of rum.
Then she headed for the Azores, arriving there 12 November. She provisioned with 550 pounds of beef and
64,300 gallons of Portuguese wine
.
On 18 November, she set sail for England. In the ensuing days she defeated five British men-of-war and captured and scuttled 12 English merchant ships,
salvaging only the rum
aboard each.
By 26 January, her powder and shot were exhausted. Nevertheless, although unarmed she made a night raid up the Firth of Clyde in Scotland . Her landing party captured a whisky distillery and transferred
40,000 gallons of single malt Scotch
aboard by dawn. Then she headed home.
The U.S.S. Constitution arrived in Boston on 20 February 1799, with no cannon shot, no food, no powder,
no rum
,
no wine
,
no whisky
, and
38,600 gallons of water
.
————————————————————————————————-
Britain has a second to none seafaring history. Our group makes it come alive in the research and discussions. Each meeting brings out new insights and discoveries, from the ancient Roman mariners, to Portuguese navigators opening up the ocean world. From heroic efforts of our seamen of World War II to Replica ships sailing long forgotten trade winds. We always have various interesting topics.
If you love the sea and British History, then come and join our growing group. We have retired experts from a lifetime of Marine based professions, to people who just love hearing about the sea and Britain contribution to the maritime world.
Bananas
The uncontrollable nature of the sea has given way to many a nautical lore, each one as curious as the next. Non so bad as the following, oh I'm not sure about that!
No Bananas On Board
Aside from their peels causing many comedians to trip and fall down, bananas have long been thought to bring bad luck, especially on ships. At the height of the trading empire between Spain and the Caribbean in the 1700's, most cases of disappearing ships happened to be carrying a cargo of bananas at the time.
Coincidence? Perhaps. Another theory suggests that because bananas spoiled so quickly, transporters had to get to their destination much quicker. Fisherman thus never caught anything while bananas were on board. Another danger caused by monkey's favourite fruit fermenting so quickly, was that in the heat of the storage hull, bananas would produce deadly toxic fumes.
A final theory on the perils of bananas at sea (though there are tons) is that a species of deadly spider would hide inside banana bunches. Their lethal bite caused crewman to die suddenly, heightening the fear that banana cargo was a bad omen.
Ergo Bananas are evil
Here is an example of what we might examine…
During the Seven Years War, Admiral Byng was charged with 'failing to do his utmost'. He was executed on board the Monarch on March 14th, 1757.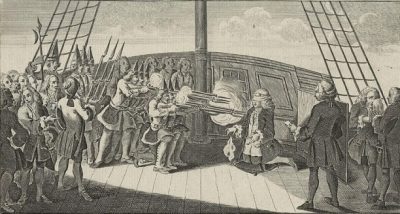 A quiet, shy man, the unfortunate John Byng was no coward – he faced his death with cool courage – but he seems to have been too cautious, passive and defeatist for command in the British navy. He went to sea at 13 and rose up the ladder to captain at 23 and rear admiral at 40.
Another Example might be the Cornish Fishing Fleets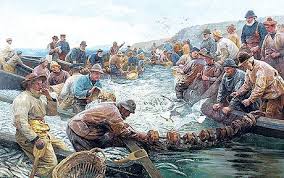 Fishing is one of the oldest professions in the world. One could argue that perhaps Cornwall's fishing industry has a real claim to be one of the oldest, there they mainly hunted the pilchard (now referred to as 'sardines').
Fishing villages such as St Ives and Newlyn sprang up into large towns, their prosperity based on the small fish that swarmed in the Cornish waters.
See you there